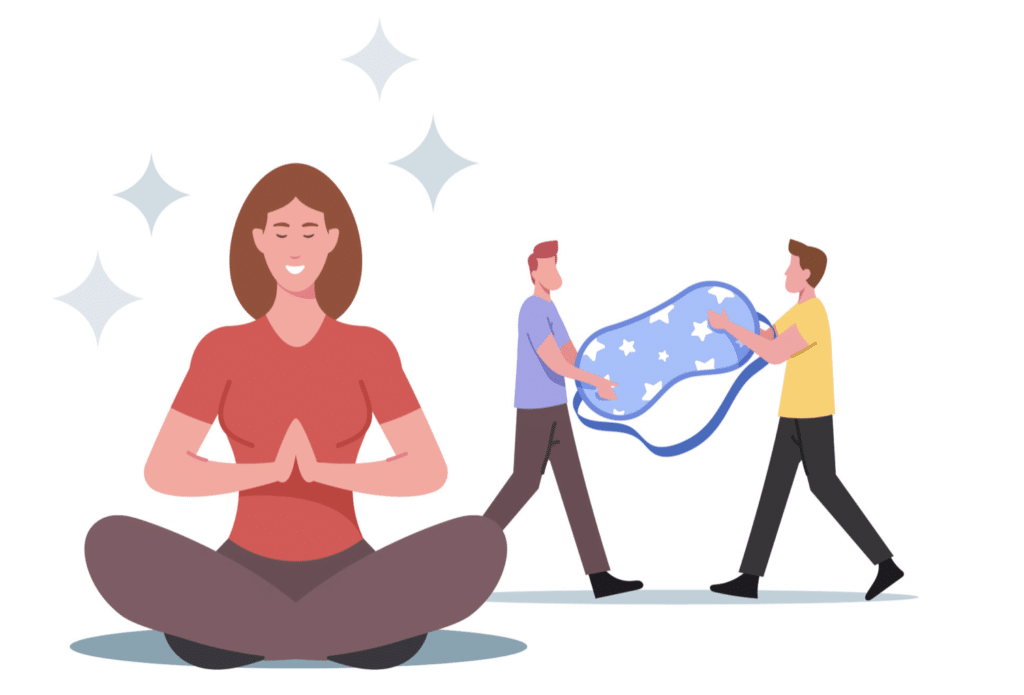 So, I hear you've been having a hard time falling asleep at night or perhaps you're waking up in the middle of the night and can't get back to sleep (Wow, that sounds tough). Either way, you're here to learn tips to fall asleep faster. Good news, my friend, you've come to the right place!​
11 QUICK TIPS TO HELP SOOTHE YOU TO SLEEP IN 3...2....
Making lists of random things is a great grounding technique and can also help you sleep. Moreover, this has been found to be very effective for breaking unhelpful thought patterns and easing anxiety at bedtime. 
All you have to do is list random objects as they pop into your head, such as "potato, jeans, grass, clouds".
If you're interested in something a little more structured, this idea may bring some nostalgia from childhood sleepovers playing "Johnny went camping and in his bag he brought…" while taking turns listing a different item that starts with each letter of the alphabet. What's great, you can do this little trick all by yourself!
Just think of a category and try to name an item that starts with each letter of the alphabet, starting with A.
This ancient and spiritual practice gives your mind something to focus on and creates steadiness from chaotic thought patterns at bedtime. More than that, the meaning behind certain mantras can be enough to soothe your mind before bed.
If you already have a chosen mantra that relaxes you, perfect! If not, here are some commonly used mantra phrases you can try:
Disconnect to reconnect
Inhale the future, exhale the past
Everything I need is within me
I can and I will
I change my thoughts, I change my world
Most mantras are phrases, but some are just single words such as "peace" or "emptiness". However, you might like the classic "Om" best, which is considered to be the most sacred mantra and is the most commonly used to soothe your mind.
Simply repeat your chosen mantra slowly and with intention. Think about what your mantra means and believe your words, then let them help you sink into a calming state of mind as you drift off to sleep.
3. PROGRESSIVE MUSCLE RELAXATION!
Research has found that this technique can teach your body to fall asleep quicker by increasing your levels of mental quiet and joy. In addition, it can even reduce chronic pain which could cause you to have trouble falling asleep.
Try this simple exercise by:
Tensing each of your muscle groups, one at a time
Releasing the tension and easing the muscles into a moment of relaxation.
This technique helps you reconnect with your body, and can help reduce the anxiety that's keeping you up at bedtime. The best part is its very simple and can be done while you're laying in bed! 
All you have to do is let your mind focus on each part of your body in a slow progressive meditation:
Start with your toes. Bring your focus to each individual toe, one at a time, then slowly move up to your foot, your heel, your ankle, your shin…take time to focus on each part of your body as you slowly make your way up to your head. Relax each body part as you focus on it.
This technique can help you get a handle on the ever-circulating thoughts that might be keeping you up at night. 
All you have to do is visualize yourself sitting on a bench at a train station. Now, think of each circulating thought as its own train, arriving and departing as they come in and out of your mind. Keep your awareness on yourself sitting on the bench at the station. At some point, you may get lost in your thoughts and find yourself riding one of those trains. That's ok! As soon as you realize you're on the train, just imagine the train coming back around to the station and get off. Return back to your bench and continue watching the trains coming in and out of the station.
6. DIAPHRAGMATIC BREATHING!
Well, that's a mouthful…literally. This technique involves deep breathing that fully engages your stomach, abdominal muscles, and diaphragm. This can release stress and anxiety that might be preventing you from falling asleep quickly.
While you're laying in bed, try placing one hand on the middle of your chest and your other hand on your stomach.
Inhale slowly and deeply through your nose and down towards your stomach. Feel your stomach push up against your hand.
Exhale slowly, tighten your abdominal muscles, and let your stomach fall downwards.
Repeat as many times as needed to feel relaxed, but aim to do 5-10 minutes at a time. However, if you're finding yourself spending up to 20 minutes on this technique and you're still wide awake, you might want to try another technique.
Guided track meditation is easy to do, accessible, and free! You can download an app, such as Insight Timer, and pick whichever guided meditation piques your interest. 
Lay back, relax, and let the guided track work its magic! 
Likewise, Yoga Nidra guided tracks can help you build healthier thought patterns and reduce those racing thoughts you might experience as you try to fall asleep.
Yup, sometimes it's that easy. 
Choose the most boring podcast or radio broadcast you can think of, lay back, and let it bore you right to sleep.
It might sound counter-productive but sometimes some reverse psychology can do the trick. In fact, research has found that this technique can help people fall asleep faster. 
All you have to do is stop trying to force yourself to sleep and instead tell yourself you're trying to stay awake.
Journaling is a very effective and scientifically supported way to reduce the stress that might be keeping you up at bedtime. Set aside 10-20 minutes to journal, and make it part of your bedtime routine!
Try one or more of these suggestions to free your mind:
Vent your thoughts and give your brain closure at the end of the day
Make notes about positive experiences from your day
Create a to-do list "to be accomplished tomorrow" to let your brain off the hook for the day
Free association: just write whatever comes to your mind!
As a last-ditch effort, if you've tried everything and still can't get to sleep after 20 minutes of trying, jump out of bed and into a warm bath or shower! Were you aware that a 10-minute shower sesh can help you fall asleep up to 36% faster? As you expose your skin to warm water, the blood flow at the surface of your skin increases and results in heat loss. Consequently, this cools your core body temperature and your body sleeps better when it's cool! Win!
Now you have a bunch of tips to help you fall asleep faster!
Do you want to do more? You should also check out our article for suggestions on 9 things to avoid before bed to make sure you're covering all of your "fall asleep faster" bases.